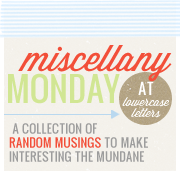 This is my first time participating in Miscellany Monday I figured talking about normal stuff with a fun little tag could be fun so I'm trying it out. Maybe you should to. Not really completely sure what I'm exactly supposed to do. It seems pretty easy, a collection of ADD moments from a crazy busy working mom? That I can do!

1. Frittata. Yep its a new favorite breakfast of mine. I'm not sure if its just because the name is kind of fun to say or if its just how delicious they are. Anyways - I like mine with veggies and brie. Since a few of my friends are doing WW and I really should be want to be a supportive and helpful friend I'm sure you could make them with egg whites and they'd be good too.

(note to self: try that)

My kids don't like them which means more for me.


2. My husband is a really good cook,
(hence my new love for frittata's)
he waited on me hand and foot for Mothers Day. So I've decided I could really get used to having a live in chef, maid, and a courier. Yes, those are the things I think about when my house is a mess.


3. My vacuum somehow broke while I was away on Saturday. No laughing please. I admit I have an obsession with vacuuming and many friends have made fun of me saying I've made my vacuum cleaners suicidal. This one is heart breaking. I love my Dyson vacuum but really I'm just mad I can't use it. If you have a favorite vacuum please leave your suggestions in the comments. I'm obviously going to be in the market for a new one.
4. Was anyone else as annoyed as I was that blogger was down for 24-36 hours? They still haven't returned my stolen post despite me asking nicely. I guess I'll chalk this one up to another one of those "you get what you pay for" lessons.


5. I'm sending my two oldest kids to camp this summer. It felt weird signing my name in so many places essentially stating I wouldn't sue them if something happened to my precious treasures. They even made us notarize it. Do they plan on not taking very good care of them? It kinda makes me nervous. Beside the fact they've never gone to a camp where their dad and I weren't either counselors or staff of some sort. Maybe its the idea that they are going to another state for this camp. Still not sure how I feel about them growing up.
6. Speaking of growing up do I look old enough to have a high schooler? (don't answer that unless its a REALLY loud NO!) Seriously when did my little tiny baby get so old when I'm still so young?

Phew. That wasn't hard and it was kinda fun. Might add this one into my blogging week. :)



Happy Monday All!