Monday Monday.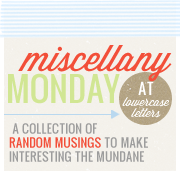 I don't think the weekend was long enough for the amount of things I needed to get done. It was a super charged weekend of grocery shopping, kid carting, date nighting, and super bowl partying. We are in full blown packing and organizing mode as we prepare for our upcoming trip to Ethiopia. I cannot wait.
1. Life is funny. It just seems to get crazier.
2. Zahra started Pre-K last Monday. We put her in a private Christian school at the church just a couple houses down. She loves it. She needed it. She's thriving.
3. Four years ago today we met our son Silas for the first time. God used this precious boy to change our family forever. We're so grateful.


4. I went to the Created 4 Care retreat last weekend....it was fabulous. I'm going again in March to help wherever and hang with friends. Oh and maybe some MKI will be representin'. :) Are you going?!


5. I've been changing up the way we eat around here. Less sugar and wheat, more pumpkin seeds and organic cherries. True story. Oh and green smoothies - have you tried them? You should. A few weeks ago I got on a green smoothie kick and shared it with 1/2 my friends. We're all addicted now. Read this gals blog to be addicted too: http://iowagirleats.com/2012/01/04/my-top-secret-diet-weapon/


6. As I'm making 45 to do lists before we leave for Africa I'm also trying to clean out closets. Buy a cute shirt and all the funds go towards supplies we're purchasing for the trip! http://thisshubinclan.blogspot.com/2012/02/massive-t-shirt-purge-where-you-live.html

That's all folks! I'm off to sort donations in the sunshine!