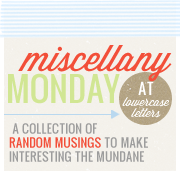 Its been awhile since I've done a Misc. Monday post! I'll blame it on a crazy busy schedule! But here's this weeks installment and let me just say - with crazy busy comes LOTS of misc. Monday options!
1. First I don't want you miss out on the
GIVEAWAY
I'm doing right here on my blog. If you missed the post yesterday you must go check it out
here
and comment on that post to be entered to win a $50 gift certificate from
Noonday
. I promise you don't want to miss it. See the cool arm warmers above? Yes, I live in FL but I SO want these.


2. My oldest daughter let me know last week that she had ZERO issues with telling these pushy boys at school that she has no interest in them. I listened closely as she explained the process of repeating "no I don't like you, yes I'll be your friend but NO I do NOT want to be your girlfriend". I like that kid.
3. The same aforementioned daughter came home later in the week and let me know she'd slapped a boy at school. As soon as the shock wore off I asked her what this poor young lad had done to deserve such a thing. I guess he wouldn't quit touching her. She said she warned him and he didn't listen. I'll admit her father was quite proud.



4. Zahra continues to reinvent funny. Silas is known for being a slow eater. The rest of the kids eat circles around him. This has been especially annoying come Sunday mornings or school days. Yesterday David told him it was a race and he wanted him to finish first. As he was finishing up explaining Zahra says "Silas, you better start your race car". She doesn't miss a beat.

5. I mentioned going to the Together 4 Adoption conference - it was fabulous being able to hang out with precious friends, to be refreshed, and just hanging out with people that "get" me. No need to explain anything, they just get me. There will be more on this in another post.
6. I love Suri. She's helped out of many a jam. She's attempting to keep me organized and I never realized how much I'd appreciate her prior to our meeting.