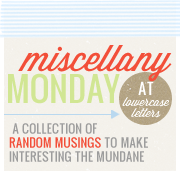 Good Monday Morning to you! Its been a super busy weekend, I don't think I rested once. Oh wait....we did go on a date, that was semi restful with a little bit of mission in there too. Okay so you get the point. Its Monday and I wish it was Friday.

How about some randomness to start your day. :)



1. My husband has dyslexic moments every once in a bit.....this weeks were awesomely classic and worth documenting. At two different times while trying to make a point with our offspring he told them "Stop doing that, its like chaulk on a nail board". Not to be out done just yesterday he told the kids to "stop it off". This works well if your goal was to make the whole brood roar with laughter.



2. I'm super excited to be going to Together 4 Adoption again this year. Are you going?

3. This weekend I purchased my daughters first homecoming dress. It was bittersweet. My oldest child is growing up. I kept seeing flash backs of her as a little bitty as she posed in the mirror choosing which dress she liked best. I felt older.




4. I've recently become rather fond of my husbands iPad.....its therapy playing Angry Birds. Maybe you like them too. Check out this deal here its a win win. Donate some cash, help bring four kids into a family, get a chance at a free iPad! Yep. True stuff.
5. I got this book in the mail earlier in the week. I've had to fight my daughter off just to read it. Katie has challenged me many times over the years since I started reading her blog. She's the real deal. She's candid, honest, and humble. Reading her heart has been challenging all over again. A young womans honest walk with Jesus as she raises her 13 daughters in Uganda. A beautiful example of the hands and feet of Jesus at work.
6. I've got a new obsession with
these jeans
. Seriously cute and through today you can order them online for a mere $14 and change. Pretty much love a good deal and cute jeans. They are cheaper in stores if you take an old pair of jeans in for a 20% discount but the 20% off online code makes it easy. My husband was happy they were only $14 bucks, that never happens.




7. I started Christmas prepping/shopping last month. I have always shopped early and my goal is always to be done by the end of October. Last year I didn't make it. This year I'm hoping to and I've got my work cut out for me.




8. I'm making lentils today and I'm excited. Fall is a good time for things like lentils, apple crisp and squash. I'm determined to make my kids like squash. Wish me luck.

9. This weekend we played hide and seek in the dark with our kids. Yeah pretty much got the cool parent award. Its hilarious to listen to your kids searching for you when you're in the same room they are ripping apart and they have no idea you're there. Yes, we're easily entertained.



10. Date night is good. We're back to attempting to get out weekly - so far we've made it two weeks in a row!