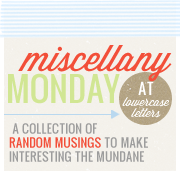 Good Monday Morning! It's going to be a crazy week in this house and my time is short so this will be quick for Misc. Monday!
1. We have five kids. I know newsflash right? Yeah well our friends here have five kids too. Today they left for a pastors retreat getaway. We'll experience parenting multiples. Triplets. (three, 14 year olds) Two sets of Twins. (two, 13 year olds AND two, 5 year olds) and a smattering of singles - 6, 9, and 10. :) You should see the lunch line! GOOD TIMES!!!
2. We're heading back to Africa. Yep. Reckless Abandon 2012. More on that soon.
3. I love Sangria these days it just screams summer - with oranges and apples please. YUMMO!
4. Starting this weekend we'll be running not one but TWO HUGE fireworks stands to raise money for what I was talking about in fact #2. Its going to be TONS of fun and ALOT of work! These stands are HUGE HUGE HUGE!! I'm excited and slightly crazy.
5. My husband laid down the rules this morning with the children referenced in #1. They are such funny little creatures, they were asking to add more rules. I've never heard of kids wanting more rules to follow. I think we'll stick with the basics, with ten kids I'm sure that'll be hard enough to do. :)
6. Kids are funny. As they grow older they go from the need for cuddles to a head nod and fist bump to show their affections. At least for boys. I think my girls will still climb on their daddies lap at 38.